'Safety Day' was held for the sixth consecutive year at Cenergy Holdings facilities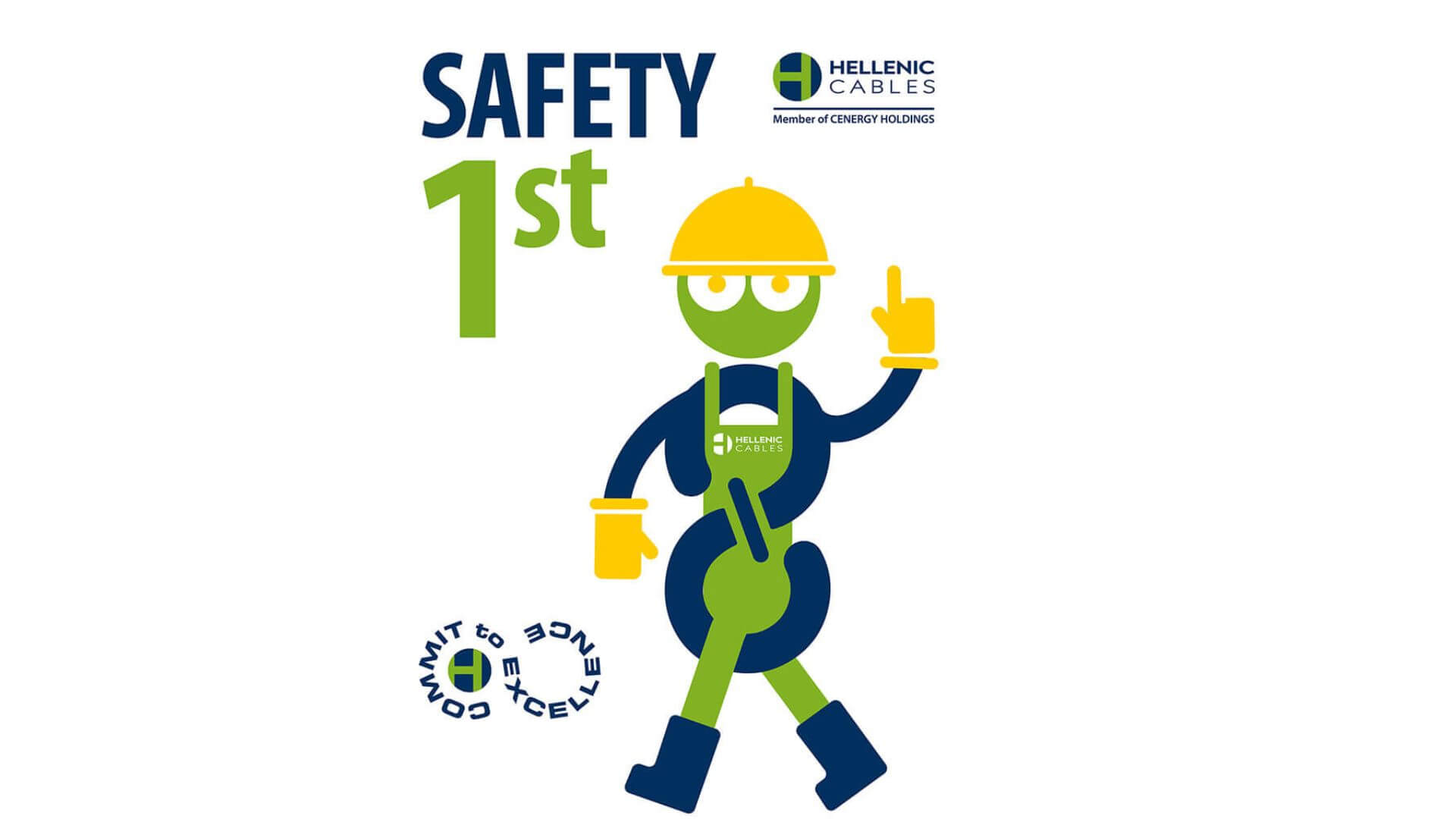 Creating a safety culture is a top priority for Cenergy Holdings companies
Athens, 20 October 2022
For the sixth consecutive year, Cenergy Holdings, within the framework of the "Safety Day", has organized a joint event in all its companies' production plants in Greece and Romania on Tuesday, October 18, 2022. Special emphasis is placed on the culture of safety at Hellenic Cables and Corinth Pipeworks, the cable, and steel pipe segments of Cenergy Holdings, respectfully. The purpose of "Safety Day" is to inform employees about targeted issues regarding health and safety and reward their best proposals for improvement in this area. Hellenic Cables started this initiative, aiming to highlight the importance of safety in the workplace, in 2017, and Corinth Pipeworks joined the initiative for the first time this year.
Mr. Alexis Alexiou, CEO of Cenergy Holdings and Hellenic Cables, stated: "We believe that based on our shared principles, there is no success, even in business and production terms, if we do not manage to achieve zero accidents in the workplace. Anything else is not acceptable.
Cenergy Holdings' management recognizes the need and thus, proceeded, at the end of 2021 and continued throughout 2022, in evaluating its production plants and training its executives through DuPont Sustainable Solutions, the world's pioneer company in establishing a safety culture. Extensive training programs and further actions were carried out with executives, and administration officers aiming to consolidate a culture of safety in workplace.
Creating a safety culture is a top priority for Cenergy Holdings companies to minimize risks. In this direction, several initiatives have been developed and are operating effectively in the cable production plants in Corinth, Thebes, Oinofyta, and Bucharest in Romania, as well as in the steel pipe plant in Thisvi. Some examples are the Golden Rules of Safety, the Occupational Risk Assessment Study, locking-unlocking equipment systems (LOTO), systems for protection from rotating parts (Zero Access) and procedures for safe workplace behavior.
Mr. Ilias Bekiros, CEO of Corinth Pipeworks, emphasized: "Health and Safety remain our top and absolute priority! Our people are the driving force behind our operations. We firmly continue to invest in their training, emphasizing safety at work and the proper implementation of emergency planning. Prevention is at the very essence of our strategy!"
This successful strategic positioning allows us to be ready for any circumstance that may arise. We continue to operate responsibly and respectfully, firmly committed to continuously improving our performance.
Hellenic Cables is one of the largest cable producers in Europe, manufacturing power and telecom cables as well as submarine cables for various industries, including offshore wind and utilities, as well as undertaking turnkey power transmission and distribution projects. Through its fully owned subsidiary Fulgor, Hellenic Cables operates its submarine cables plant in Corinth, Greece, where the production and testing of some of the longest submarine cable lengths without factory joints on a worldwide basis is empowered by the Company's state-of-the-art facilities and equipment. Since 2012, Hellenic Cables has implemented a EUR 250 million-investment plan for the production of high and extra high-voltage submarine cables at Corinth plant. Hellenic Cables represents the cable production segment of Cenergy Holdings SA. For further information, please visit Hellenic Cables website at www.hellenic-cables.com.
Cenergy Holdings is a Belgian holding company listed on both Euronext Brussels and Athens Stock Exchange, investing in leading industrial companies, focusing on the growing global demand of energy transfer, renewables and data transmission. The Cenergy Holdings portfolio consists of Corinth Pipeworks and Hellenic Cables, companies positioned at the forefront of their respective high growth sectors. Corinth Pipeworks is a world leader in steel pipe manufacturing for the oil and gas sector and major producer of steel hollow sections for the construction sector. Hellenic Cables is one of the largest cable producers in Europe, manufacturing power and telecom cables as well as submarine cables for the aforementioned sectors. For more information about our company, please visit our website at www.cenergyholdings.com.